Staying sane starts in the summer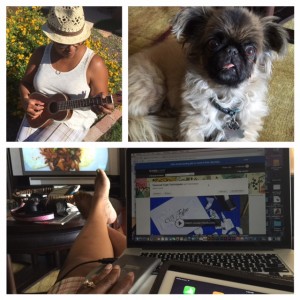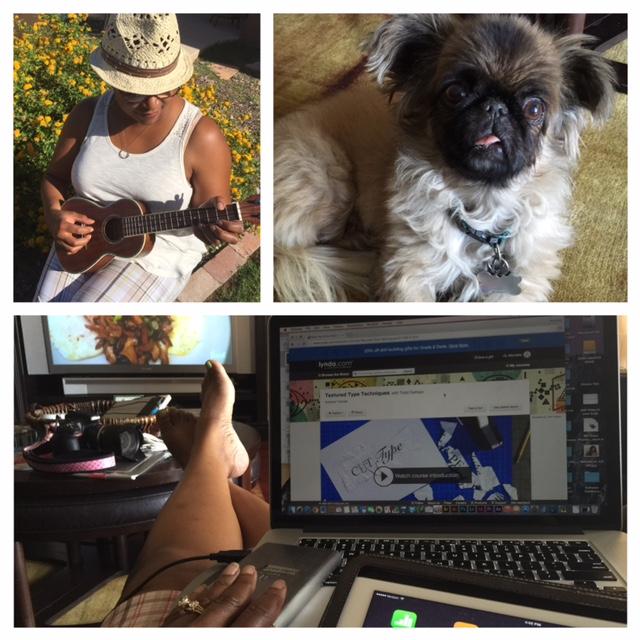 Checking the calendar, my first thought was, 'Whaaaat? We're into the 5th week of summer and I haven't given a thought to the next year!"
Here's the good part of that idea.
I have not given a thought to next year.
Here's the bad portion of it.
I have not given a thought to next year.
Breathe deeply, Michelle. You've been doing this a while (a long while) and you know that everything is going to be okay. It's just that each of the last 19 years that you've been advising scholastic publications, you've promised yourself not to wait until the Sunday before school starts to get yourself, classroom and curriculum plans ready for the school year.
I can start by taking a quick assessment of the how I left (ran out of) my classroom in May. I'm lucky in that I don't have to take everything off the walls and I don't have to turn in computer and keys. My family, bless their hearts, came in on the final teacher day and helped me get my classroom, cabinets, studio, control and audio rooms under control. A part of me knows, that I will still need to go into my room and do a quick check to see what I can do to prepare before 100 student get there, but it's not in a negative place, better than some years. I tried something new and filled out all my purchase orders and building use requests ahead of time. If all goes as planned, I will be set to renew memberships – AIPA, check, JEA, check, School Newspapers Online – the checks should be in the mail when the fiscal year turns over. The camps fees are set for payment. I even thought about a possible fundraiser, so we're not scrambling to get it into place. Although it seems fewer and fewer businesses will take school purchase orders, I should be able to get basic supplies that I need start at a good pace. In past years, it has been one of the many areas that I think, "Why didn't I do this beforehand so that I would be ready with it on the first day of school?" The start of school for me is filled with rushing to get kids and cameras up and running as quickly as possible to get our coverage of the year stared, so it's nice to have those elements done.
The biggest part of I-wish-I-would-have-taken-at-least-a-day-or-two-or-three-to-do-this-ahead-of-the-start-of-the-school-year mantra that I regularly repeat is to work on my curriculum. One of the great parts of teaching computer media technology is that it's ever changing. There's always something new to learn or try out. A website here, a device there. While I've already broken the promise to myself to stop downloading new apps to my iPad before I can figure out why I downloaded the previous 200 (so much fun stuff!), that is part of my goal to get it right.
Most people have this notion that teachers work only 9 months out of the year and take the summers off. There is also a myth people work 9 to 5 (or 7 to 3) and do not take work home to make a living. My summer it booked. I've already taken an class in Illustrator at a community college (got to get those re-certification hours in), I'm teaching at a workshop out of state, then attending a CTE workshop in state, before I get in a family vacation that combines working/taking students to yearbook camp out of state days before school starts again. I've also got an in home photo studio calling my name that I want/need to get up and running too because I talked my work-from-home husband into switching office spaces with me.  I  just need a little more time to get it under control. There is some deep breathing going on here, folks.
Okay, so what in the world can I do as the dog watches me while I'm multitasking by flipping through ratchet reality TV shows , food shows of with dishes that look amazing but I'll never have all the ingredients on hand to make, or talk shows that I wish I were in the audience for during the amazing giveaways that will help me later? As much as I may not want to do this, I really should start going through my computer files to pitch and ditch. I admit, I am a teacher pack rat. I save nearly everything academically (or that which I believe has a possibility to inspire minds or make my life easier) related item that interests me at the time (thus, the 200 + apps). Don't even get me started on the file cabinets in my classroom that never got opened last year. The drawers are closed and it looks neat, thanks to my girls. Reality says I'm not going to get to everything that I have saved on my computer, but I know that there are at least one or two (or thirty to fifty) things I can delete to create some space on my hard drive. That's why I keep getting that crazy message about my start up disk being full.
Just do it! That's what it says on the shirt I bought when the days were deceivingly cool at the outlet store to encourage myself to enjoy the outdoors while I have numerous unencumbered days of 100 plus degrees outside. Sounds easy enough, but as we know… it's not so cut and dry as a Nike dry fit shirt (that I am convinced are cut way smaller than they should be). But you know what Mrs. Coro (when I'm in teacher mode, I talk to myself. It's because my PLC involves Me, Myself and I and we argue all the time), who else has access to your computer? Who else can correctly file (i.e. hide) all the forms, slideshows, and handouts you've begged for, borrowed, stolen and yes, even created to make it easier to explain concepts to kids so the light bulbs flicker on and your classroom runs so much more smoothly the next time around? You'd have a fit if district technology staff went into your Google drive (which I've heard some people have experienced), so why not do it yourself? Surely, it will save you a lot of distress later when you are trying edit a photo and your computer won't even let you save the file?
So buck it up and tackle a little bit at a time. Start with email (at least one of the seven). Delete some of the folders created to save files you don't (and never did) need. Move on to your computer desktop, then the hard drive. Even dive into the documents folder because you know there is tons of stuff there. Clear some videos, back up some pictures and sooner or later, the load will start to get lighter. The concept of a little each day would be great, but yeah, no. That's not going to happen. A little each week ? Okay, try it.
Anne Lamott suggests Bird by bird, I'm suggesting file by file. Eventually, I can start to tackle the external hard drive that I have thousands of files, lessons and resources that I would cry if it crashed because I wouldn't be able to find the power point presentation that I made 5 years ago that I could tweak and make more relevant. Hmmm, come to think of it, maybe I should start with that and back it up before it dies. Luckily, I know how to dismantle a drive to put it on an eSATA and USB docking station to try to recovery files that you meant to back up but just didn't get around to it before it was too late (speaking from experience). Being a journalism technology teacher fills you with tons of talents you never thought you'd have, or need at a moments notice.
Oh wait! My computer doesn't have enough space on the drive. The message keeps popping up that says it's been 26 days since my last backup. Guess I know what I need to do now to try to stay sane.